Careers and Industry
WestConnex is creating opportunities for Australian businesses and people to get involved in the delivery of Australia's largest road project. It will generate about 10,000 jobs directly and indirectly, including hundreds of opportunities for apprentices and trainees.
Procurement of major contracts is complete for:
WestConnex M4 Widening
WestConnex M4 East
King Georges Road Interchange Upgrade
WestConnex M8
WestConnex M4-M5 Link Tunnels
WestConnex M4-M5 Link Rozelle Interchange
An Australian Industry Participation Plan was prepared detailing how WestConnex encourages fair access and opportunities for Australian industry to compete for work. A summary of the plan can be found here. 
Each project stage of WestConnex is creating tens of thousands of jobs. More than 16,000 people worked on the New M4 in the lead up to its opening in July 2019, with many going on to work on further stages of WestConnex or other major tunnelling projects in Sydney.
Applying for job opportunities:
If you are interested in job opportunities on WestConnex, please contact the principal construction contractors:
WestConnex is committed to leaving a skills legacy for future major projects. The WestConnex training academy has provided thousands of accredited training courses, with a focus on providing training for Aboriginal and Torres Strait Islanders, women, young people and school leavers, Western Sydney residents and people with disabilities.
WestConnex partners have teamed up with Western Sydney TAFE and other registered training organisations to ensure all training is accredited and transferable. 
Procurement Requirements and Standards
At least one contracting entity tendering on major WestConnex contracts must be prequalified to each of the applicable National Prequalification Scheme categories (road, bridge and financial).
This also includes nomination of sub-contractors in key goods supply services (including asphalt paving, concrete paving, and steel fabrication) to applicable prequalified categories.
Well-established design and construction specifications are used to design and construct WestConnex, primarily developed by Roads and Maritime Services. These specifications are regularly used on NSW transport projects. Specifications generally reflect the applicable Australian Standards or equivalent International Standard. For further information on prequalification, visit the Roads and Maritime Services website.
When we advertise and publish new opportunities, we also include:
A description of the tender with prequalification requirements
Location
Compliance requirements to relevant procurement codes of practice
Procurement process (for example, Expression of Interest, Request for Tender, shortlisting)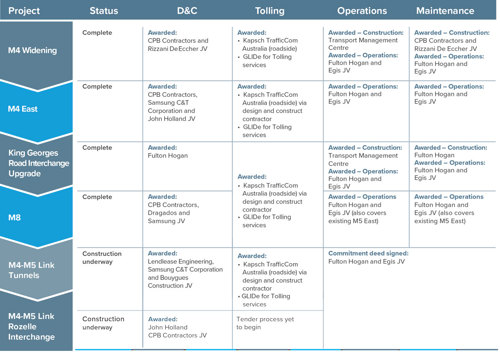 Search WestConnex