Toll Operator
WestConnex is a multi-concession Toll Scheme – which means that each of the different parts of WestConnex that make up the WestConnex network have different Toll Operators.
WestConnex has three Toll Operators. Depending on your travel, whilst your trip will be handled as a single toll transaction whilst on WestConnex, one or more of the following Toll Operators will apply:
WCX M4 PT Pty Ltd                  (the M4 between Church St and Ashfield/Haberfield)
WCX M5 PT Pty Ltd                  (the M8 and M5 East east of King Georges Road)
WCX M4-M5 Link PT Pty Ltd    (the link between M4 and M8 and Rozelle)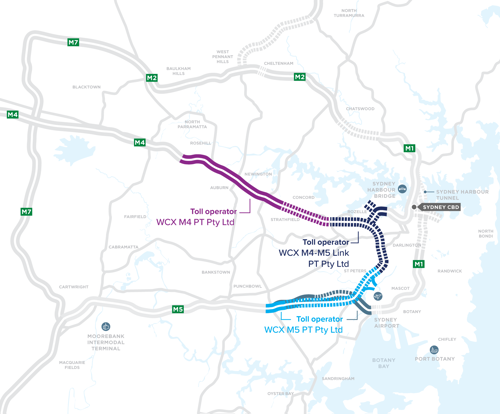 Entry and Exit points on the M4 motorway (Toll Operator is WCX M4 PT Pty Ltd):
Church Street
James Ruse Drive
Silverwater Road
Hill Road
Homebush Bay Drive
Concord Road
Strathfield
Haberfield
Ashfield
Entry and Exit points on the M8 and M5 East motorway (Toll Operator is WCX M5 PT Pty Ltd):
King Georges Road
Kingsgrove Road
Bexley Road
Princess Highway
Marsh Street
General Holmes Drive
St Peters
Confirm your toll
Use the Linkt toll calculator to work out the cost of your WestConnex trips by checking where you entered and exited the motorway and the cost for that trip.
The cost of your actual trip will depend on when and how far you travel, the type of vehicle you drive and the account or pass you choose. If you travel without an account or pass, additional toll notice admin fees may also apply.
You can also compare your tolled and untolled travel options with Trip Compare.
If you want to dispute a charge on a tolling account, please contact your tolling provider.
For further questions about Toll relief in NSW, please visit Service NSW or Linkt Assist.
Search WestConnex