Traffic changes-Rozelle Interchange
Traffic changes-Rozelle Interchange
ANZAC Bridge Access Road major road changes
From Saturday 26 September the ANZAC Bridge Access Road will open, connecting Victoria Road to the ANZAC Bridge.
Traffic movement will remain the same for motorists however the left turn to the ANZAC Bridge will be earlier on Victoria Road. The road will be in place for around two years while the intersection is being upgraded.
Please plan ahead and follow the signs.
Victoria Road Access Road major road changes
A new road connecting City West Link and The Crescent to Victoria Road opened on 31 October.  To access the new road, motorists will need to be in different lanes to the previous configuration.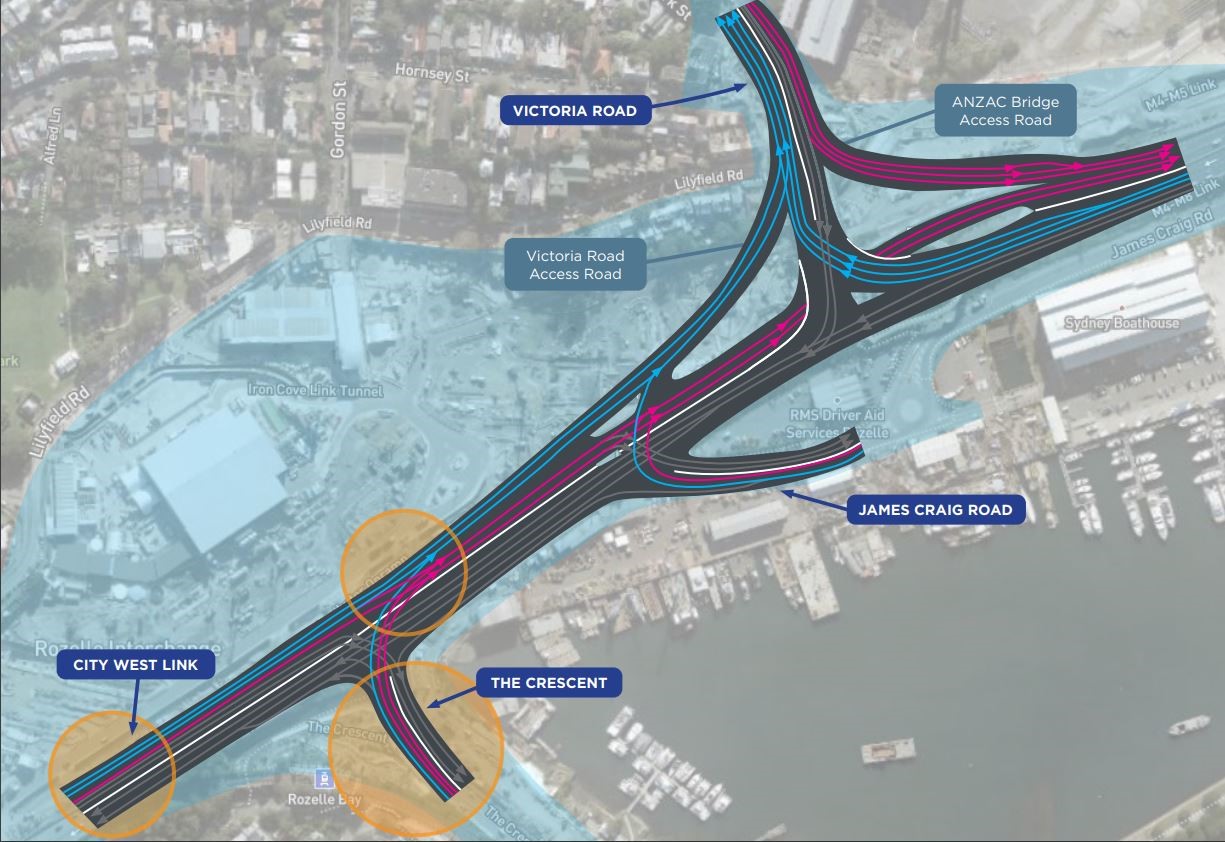 Partial reopening of Lilyfield Road
There will also be key changes for motorists accessing the Rozelle neighbourhood (north of City West Link) as Lilyfield Road is partially re-opened to traffic:
vehicles travelling from ANZAC Bridge can turn left into Lilyfield Road from Victoria Road.
no left turn into Lilyfield Road for vehicles coming from the new Victoria Road Access Road (The Crescent or City West Link).
no left or right turn out of Lilyfield Road onto Victoria Road
a new signalised intersection will be in place across Lilyfield Road for pedestrians and cyclists
Motorists coming from City West Link or The Crescent will be able to access the Rozelle and Lilyfield neighbourhoods via Balmain Road, Evans or Darling streets.
Pedestrian and cyclist access has also changed
Lilyfield Road and The Crescent
A new section of the temporary pedestrian and cyclist path between Lilyfield Road and The Crescent is now open. This temporary path will allow work to be carried out on the existing path and road.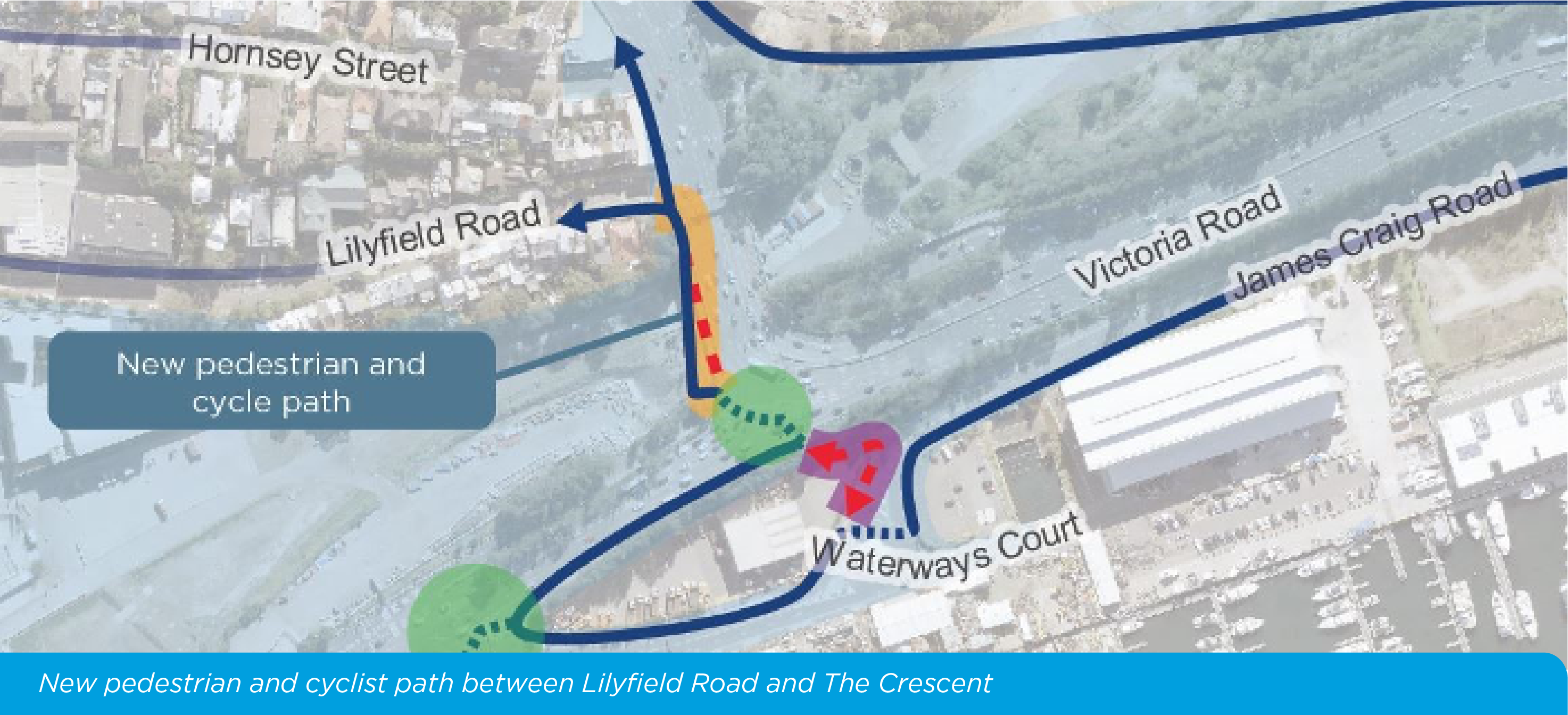 Victoria Road and the ANZAC Bridge
A new pedestrian and cyclist shared path has opened, providing direct access to the ANZAC Bridge from Victoria Road (south of Robert Street).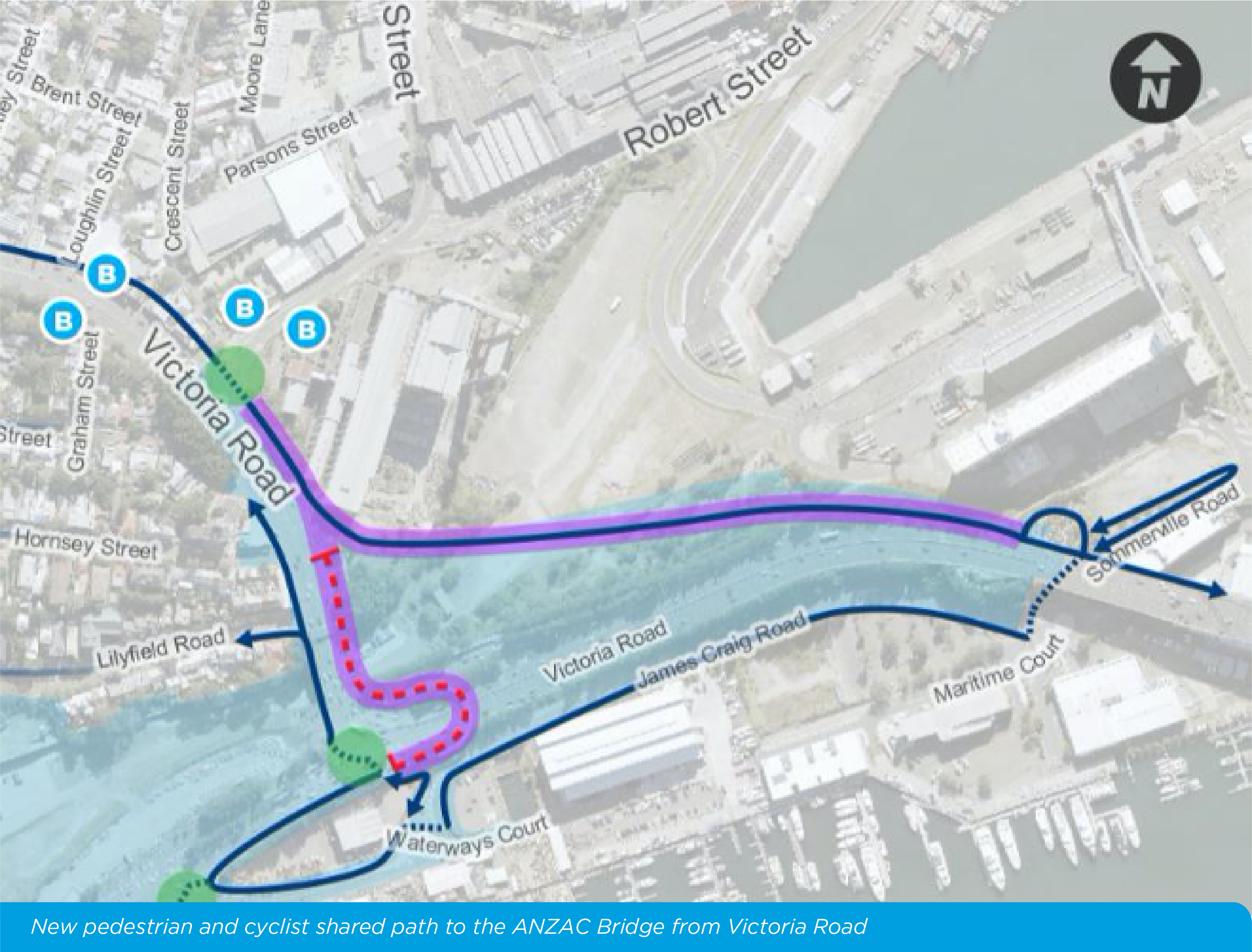 New pedestrian ramp between Rozelle Bay light rail stop and The Crescent
The new pedestrian ramp from Rozelle Bay light rail stop provides access from Bayview Crescent to Johnston Street and The Crescent.
Cyclists will be required to dismount to use the ramp. Alternatively, cyclists may choose to use Lilyfield Road and Gordon Street or Kentville Avenue and Johnston Street.
The path along The Crescent adjacent to the new road is now closer to Rozelle Bay.
The City West Link and The Crescent crossing and access through Buruwan Park has closed.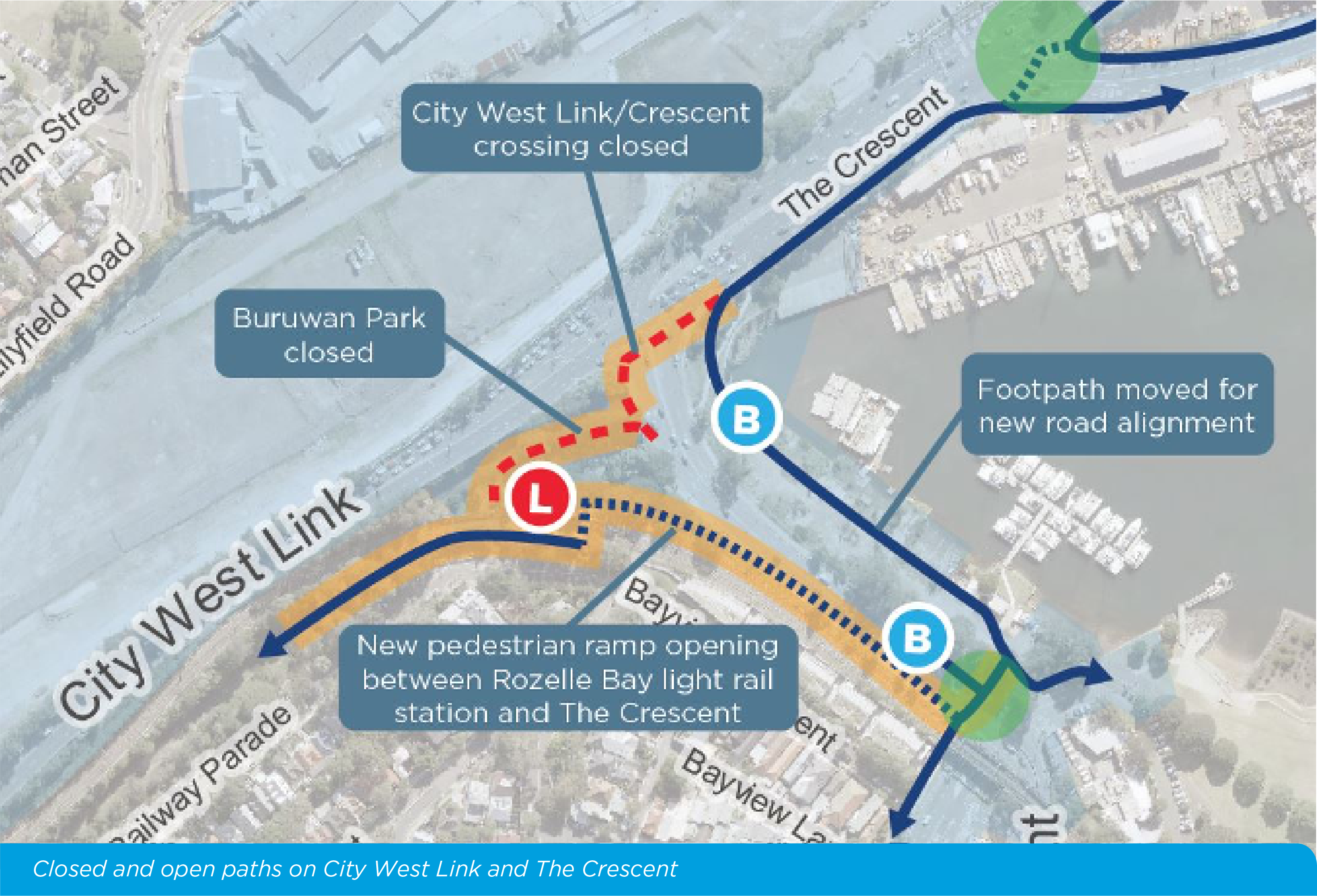 Please watch out for signs and traffic controls in the area as your usual route may have changed.
We appreciate your patience while we continue with this important work.
Buses
For up to date information on your bus stop and route, check Transportnsw.info
Have a question?
Contact us on 1800 660 248 (toll free) and ask to speak with a member of the Rozelle Interchange Project team or email us at info@rozelleinterchange.com.au
If you'd like to receive regular updates on the Project please email info@rozelleinterchange.com.au and let us know what area you're interested in.
For more information on traffic changes visit LiveTraffic 
Search WestConnex