Traffic changes-Rozelle Interchange
Traffic changes-Rozelle Interchange
Victoria Road westbound lane changes at Iron Cove, Rozelle
From Tuesday 18 May Victoria Road westbound lanes travelling towards the Iron Cove Bridge, Drummoyne will shift slightly. Drivers will travel on a new section of road and will notice a change in road alignment.
This is a permanent change.
Please note that the new shared user path along Victoria Road is open (in yellow below).
Major changes to Victoria Road at Iron Cove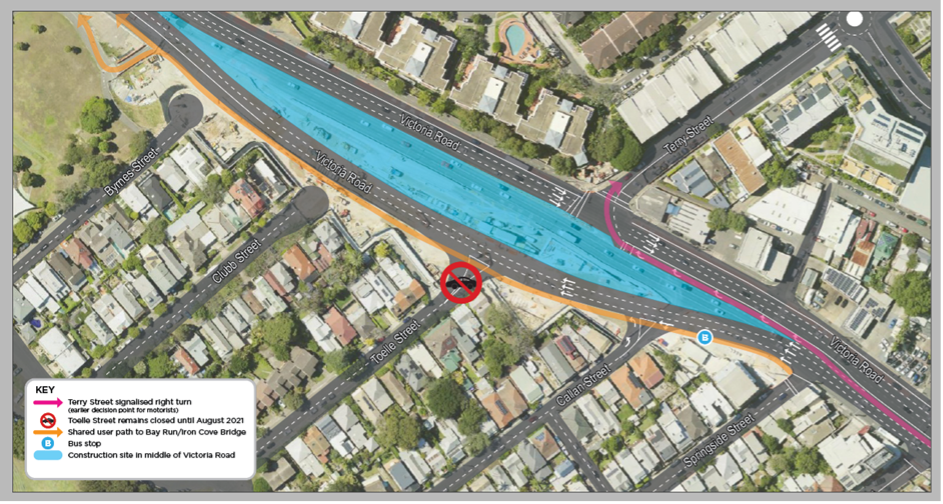 The Victoria Road westbound lanes will change slightly to the Iron Cove Link tunnel entry and exit when the Rozelle Interchange and Iron Cove Link project is complete.
Traffic wishing to turn left onto Terry Street are required to merge into turn lane earlier (see pink line above).
Toelle Street will remain closed until August 2021.
There is no right turn onto Victoria Road from Callan Street.
The work site will move to the centre of Victoria Road (in blue).
For pedestrians and cyclists
The permanent pedestrian and cyclist shared path between the Iron Cove Bridge and the Bay run is open (yellow marker on image above).
Buses
The new bus stop will be in place between Springside and Callan streets, aligning with the new Victoria Road westbound lanes.
For up to date information on your bus stop and route check out transport.info
Have a question?
Contact us on 1 800 660 248 (toll free) and ask to speak with a member of the Rozelle Interchange Project team or email us at info@rozelleinterchange.com.au
If you'd like to subscribe to project updates via email, please email info@rozelleinterchange.com.au and let us know what specific areas you'd like to be updated on or whether you'd like general updates.
For more information on traffic changes visit LiveTraffic
Search WestConnex